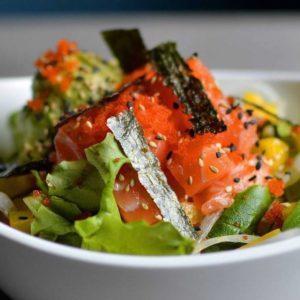 Boasting a diverse population, Lancaster is a hub of cultures, races, and ethnicities. The downtown area is the heart of all the wonderful things the city has to offer.
Due to its diversity, Lancaster offers up food options for all discerning palates. Just across the Prince Street Park from Steeple View Lofts you'll find a quirky little restaurant called Chop Sushi. Known for selling poke (pronounced po-KAY), a traditional Hawaiian sashimi-based food served with rice and various vegetables, Chop Sushi is a real treat. Their prices range from $6-$10 meaning you can enjoy a nice meal and not break the bank!
Stop by during business hours Monday – Thursday:: 11 am to 8 pm and Friday – Saturday:: 11 am to 9 pm and be sure to tell them SVL sent ya!