Who is Landis Communities?
At Landis Communities, we continue to grow our established reputation for excellence in serving aging adults. The name Landis has value—the history, the legacy, the excellent reputation. We are guided by our values of joy, compassion, integrity, stewardship and community, while staying faithful to the heritage established by our past leaders and are prepared to continue this legacy with each generation. Landis Communities is one organization with three distinct parts: continuing care retirement communities, home and community-based services, and affordable, low-income, and middle-income independent living options.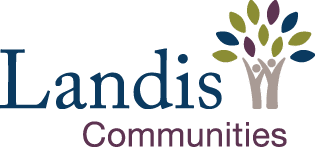 Who is Steeple View Lofts?
Steeple View Lofts, an affiliate of Landis Communities, is a 36-unit rental complex designed for active adults, age 55 and older that offers city loft rentals to those wanting to live in the heart of vibrant downtown Lancaster, PA. The building, at 118 North Water Street, was developed by Zamagias Properties, headquartered in Pittsburgh. Zamagias is engaged in a broad range of business ventures including real estate development and management, healthcare resource management technology, banking and finance, and energy development. Other projects in Lancaster include The Keppel Building and 101NQueen. In addition to the residential rental units, the first floor features retail space with tenants such as Miesse Candies and Friendship Heart Gallery.
What kind of apartments are available at Steeple View Lofts?
One bedroom and two bedroom apartment units ranging in size from 700 to 1,000 square feet. Our Apartments provide large common areas and comfortable finishes. Browse our photo gallery to see photographs of the interior.
Will I have access to skilled nursing care at Landis Homes?
Renting at Steeple View Lofts does not provide a direct path to receiving advanced levels of care at Landis Homes, however an application for residency at any of our long-term care options, including Welsh Mountain Home, would be welcomed. Steeple View Lofts apartments are designed to appeal to those who desire to stay in their own home and renters may choose to purchase the services of Landis At Home, a licensed Home Care agency, offering personal care and support services to persons in their homes. Carefully trained home care aides and homemakers provide services. Although these services are available, these apartments are designed to appeal to those not desiring nursing care.
Since Landis Communities is a nonprofit, does Steeple View Lofts pay taxes?
Yes, the property pays full property taxes to the city, school district, and county.
What is included with a rental at Steeple View Lofts?
One- or two-bedroom lofts, ranging in size from 700 SF to 1000 SF, include a kitchen, a living room, and a bathroom. The open floor plans of the 36 units feature an in-suite washer and dryer, a walk-in shower, and independently controlled HVAC. Security is paramount with secured resident entries. Electric appliances are all included. The second floor has fitness equipment. Free Wi-Fi is available in the lounges and the fitness room. Some parking is available on-site for an additional fee. Each floor has a community space, and a large shared deck for all residents is on the second floor.
What opportunities does downtown Lancaster City offer for seniors?
Lancaster is a recognized Age-Friendly City. Residents will appreciate Lancaster's art galleries, parks, shopping, theater, and even our local train station. The beautiful architecture includes historic churches and buildings. Many delicious restaurants and a supermarket are only a short walk away, and Lancaster Central Market is right down the street.
Lancaster Downtowners: This group is a caring community of seniors that offers social, wellness, and educational events to members—designed to build friendships, holistic health, and engagement.
*Lancaster Downtowners is an independent non-profit that engages in a collaborative partnership with Landis Communities via a Management Services Agreement to facilitate office space, Human Resources for staff, and consultation with select centralized services.