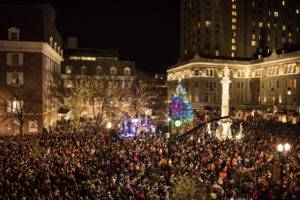 What does living right in the center of Lancaster mean for residents of Steepleview Lofts? For one, you're right in the middle of a bubbling art scene and free holiday events right in your backyard.
If you have family visiting this month, there are tons of events you can attend together. Here's a list of some great events right in the city.
Cinderella Christmas at the Lancaster Marionette Theater
Starts November 23
Enjoy the classic tale presented in a holiday setting by Robert Brock, Artistic Director, with marionettes he created.
The Mayor's Tree Lighting & Tuba Christmas
November 23
Start out at Central Market the walk over to visits with Santa at the Lancaster Marriott at Penn Square/Lancaster County Convention Center. For the complete schedule, click here.
Billboard Movie Sneak Peek at Zootropolis
November 27
Showing one night only at Zoetropolis, see this Pennsylvania-made movie before the rest of the nation! Inspired by true events, Billboard tells the story of a struggling independent radio station in Allentown, PA that hosts a wacky contest in a last-ditch effort to stay on air. Tune in to find out how they do! Following the film, there will be a Q&A panel with the director, Zeke Zelker and local business owners.
For a full calendar of events in the city for November, you can visit https://visitlancastercity.com/event and here's a great resource for events in and around the city.
Photo Credit – Lancaster City Website.