"It feels strange that a boy who grew up living near the Pacific Ocean would find the cornfields of Lancaster, Pennsylvania, so soothing, but I do," said the Reverend Doctor Randolph T. Riggs. "I love Lancaster County. I love Lancaster City. That's why I moved to Steeple View Lofts."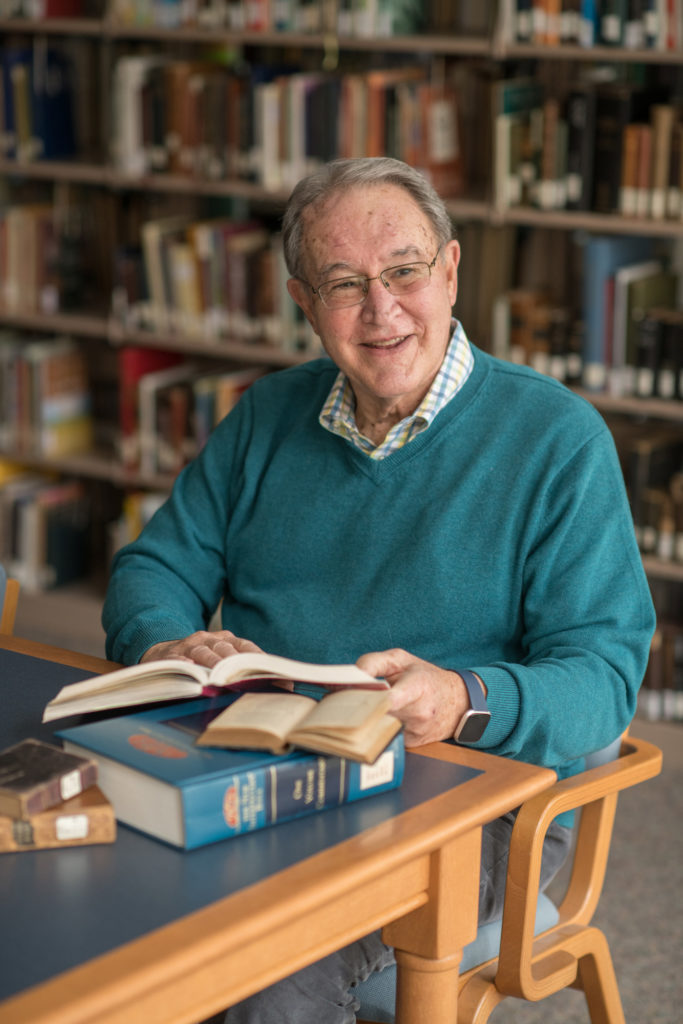 Randy Riggs, who is 75, grew up in Southern California, but after attending Princeton Theological Seminary, meeting his wife, Cherie, whom he married in 1970, and having two children and six grandchildren, he now calls Lancaster home. He is the retired pastor of First Presbyterian Church in Lancaster, and since his retirement, he's continued serving in interim ministry. He's served on the Lancaster County Council of Churches, Interfaith Alliance, and on the board of Oasis Ministries for Spiritual Development. "I've really enjoyed that program," he said of Oasis. "I've enjoyed meeting one-on-one with people and walking with them to help them see where God is active in their lives."
Randy volunteers with Lancaster Food Hub and encourages his neighbors to join once a month to help their community. He also serves as the Director of Presbyterian Studies at Lancaster Theological Seminary, where he helps students graduate with as little debt as possible and assists them in meeting the Presbyterian Church's requirements for graduation. "It keeps my mind sharp," he said. "It was something that was important to me for most of my life."
Living at Steeple View Lofts has provided Randy with the opportunity to live near the organizations he's a part of, while dwelling in the city he's so passionate about. "I moved here to Steeple View Lofts because of the opportunity to be around more people," he said. "I love the vitality and vibrancy of cities and I love Lancaster. I'm the number one cheerleader for what a great city we have."
Because Randy moved in around the time that the coronavirus pandemic began, opportunities to meet his neighbors have been limited, but he's looking forward to building deeper relationships with them in the future. He's already seen how kind his neighbors can be. Recently, he accidentally locked himself out of the building at 11 p.m. and flagged down the police for help. The police called one of Randy's neighbors who came down to open the door for him. "We look out for each other," Randy said.
Randy's experience with Landis Communities began even before he moved into Steeple View Lofts. Years ago, a few people from his congregation lived at Landis Homes, receiving memory care. "I'd see the compassion that they were treated with," he shared. "By their deeds, you know this is a faith-based community. Faith is behind all the work they do."
Randy especially appreciates the independence that is fostered at Steeple View Lofts. "I love the fact that we have 36 apartments of very capable people who are treated with dignity," he said. "The emphasis is that they help us stay independent for as long as we can. It's nice to know that I can ask for help when I need it, and if not, I can continue to live my life independently."
Randy's wife Cherie worked as the director for the Lancaster Campaign before she passed away in 2012. The Lancaster Campaign encouraged the start of the Lancaster Downtowners, and Randy is especially anticipating his involvement with the Downtowners once the pandemic ends.
With Randy's extensive service in the community before and during retirement, he can't imagine living anywhere but the city. "I love this place. We're at the heart of downtown Lancaster," he said. "That's exactly where I wanted to be living when I retired. These apartments are absolutely gorgeous. This is the kind of place I always wanted to live."
"I love the vitality and vibrancy of cities and I love Lancaster. I'm the number one cheerleader for what a great city we have."