Red Rose Run Participants Donna Styer, left, and Judy Groty In Back: Mary Alice Sauder, left, and Gail Shane
Steeple View Lofts (SVL) is conveniently located for residents who love to be active and experience life in picturesque downtown Lancaster!
The location makes it easy for residents to incorporate walking into everyday routines. The city not only provides an interesting backdrop for exercise, but when residents can walk to entertainment, groceries, pharmacies and other errands it becomes a healthy habit that is easy to maintain," said Melissa Ressler, former Residence Manager.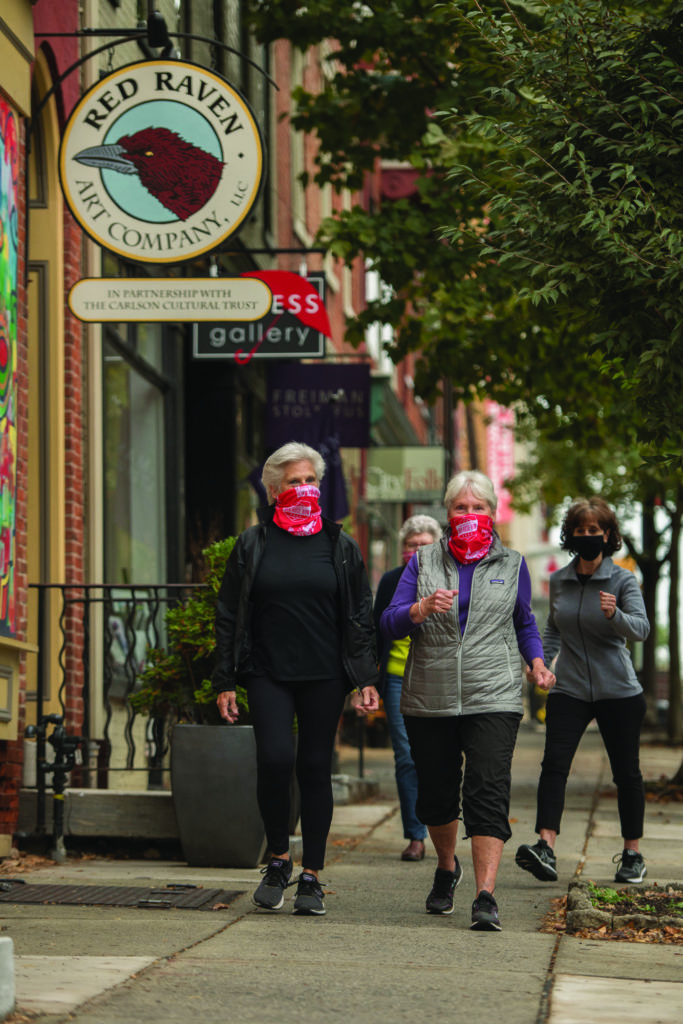 Every year, the Red Rose Run is held in Lancaster; and this year, the funds raised supported the beloved Lancaster Central Market. Two SVL residents decided to walk the race together this year. Judy Groty and Donna Styer, both avid walkers, participated in the new virtual five-mile walk. They could choose one of five courses and use their cell phones to navigate their progress. Their walk stretched from Queen Street and Duke Street to Rockford Road and around Lancaster County Park. Because of COVID-19, the total group participation was noticeably smaller than in years past, but Judy and Donna still got to feel as though they were part of an important initiative, and they also enjoyed the city for the morning.
Judy and Donna are both passionate about the benefits of physical activity. Donna completed the New York Marathon, and in the past few years she did two half marathons in Manhattan. "I'm not a runner," she joked. "I'm a fast walker." Judy walks three miles a day on a regular basis, and prior to the pandemic she swam at the Lancaster Family YMCA. Donna has also clocked hundreds of miles a month walking, especially since COVID-19 restrictions.
Donna had lived in Lancaster for 29 years. She wanted to live in SVL in particular because of her love for the city. "It's an apartment building with very friendly people in it, and it's managed very nicely," she said. "Judy and I love our apartments." Judy moved from Pennsylvania to California, where she lived for 25 years. After returning to Lancaster, a friend of hers suggested Steeple View Lofts. "I thought the city would be fun," said Judy. "It would be something different."
Like many other SVL residents, staying active is very important to Judy and Donna. "It keeps your brain active," said Judy. "It keeps you happy. If I don't walk, I get disgruntled with myself. I have to get out and walk and see people and the gorgeous places around here."
Donna, who for years has been an executive career and life coach, agreed, saying, "The critical aspect of self-care is physical activity. It helps you mentally, physically and spiritually."
"It doesn't matter how fast you go," said Donna. "It's the journey."
"I have to get out and walk and see people and the gorgeous places around here."