Eileen Gregg moved to Steeple View Lofts from her home in the City of Lancaster just as the apartments were opening for residents for the first time.
"It's a long story. About ten years ago, a friend of mine who works in real estate told me that I should get my name on a retirement village list," shared Eileen. "Most of these villages have a 3-year waiting list, she said. Even though I had no plans to move from my home on Race Avenue, where at one time I had a piano studio, I did as my friend suggested. I approached it as a research project with spreadsheets comparing amenities and costs. After visiting seven villages, I found they all had one big drawback – they were too far from downtown Lancaster."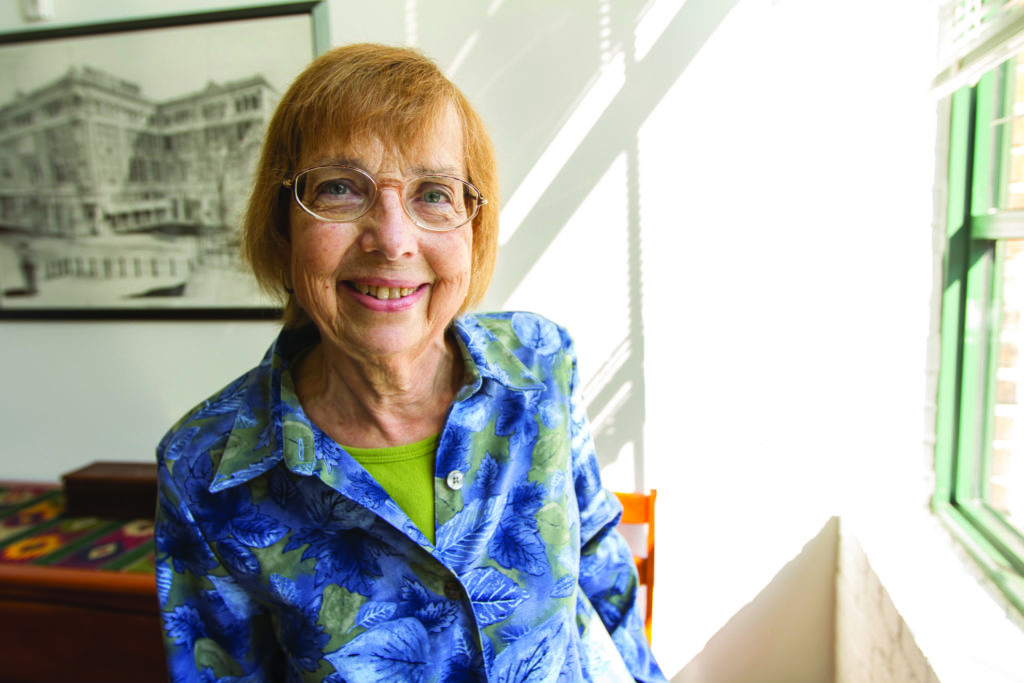 "So a few years later when I happened to see that Landis Homes (which I hadn't visited, as I didn't want to live in the country) was opening an age 55+ community on Water Street, I decided to drive there and check it out. I liked the location, and that same day called Landis Homes and asked if I could be placed on the waiting list, even though I wasn't planning to move for five years. I was told that was no problem."
"Not long after that, my son and his wife told me that they had decided to buy a house in the city. Since the Race Avenue home where I was living had been in the Gregg family since 1945, they really wanted my house. They asked if I would sell to them. It was a hard decision, but finally I decided to do it."
"My son went with me for the first meeting to learn about Steeple View Lofts. I let him do most of the talking, but we left with floor plans of all the apartments in the new building and I was told I should pick a first, second and third choice. I spent several weeks studying the plans. I was fortunate to get my first choice – two bedrooms with a den on the sunny south side of the building."
"I was with the first group of residents who moved into the building in spring and early summer of 2013. There were perhaps eight of us. Landis Communities arranged a meeting for the new tenants and members of our families. At this meeting, we were asked to tell about ourselves and why we had moved to Steeple View Lofts. My son was at this meeting. When I was asked why I moved to SVL, I said, 'My son wanted my house.' Everybody laughed."
Eileen has not regretted her decision.
"I especially like the small number of apartments — 36 in all," she shared. "Compared with large and ever expanding retirement villages elsewhere, it is possible to know everyone who lives here by name. I keep a floorplan chart on my refrigerator that shows who lives in each apartment. The chart is updated when new tenants move in."
According to Eileen, the place that gets the most use during warm months is the deck. Until the coronavirus crisis began, gathering on the deck was a great opportunity to reconnect with other residents.
"Another benefit of living at SVL is the weekly menu provided by Landis Communities that includes main dishes, soups and rotisserie chicken that can be delivered right to your door," said Eileen. "This is the safest way to get good, nourishing food when it is still less than completely safe to go to grocery stores — or even market, for that matter. I often have one of their soups for a quick and nourishing meal. "
"Although I haven't needed to use the home care services of Landis At Home, it is a comfort and reassurance to know these services are available if and when they are needed."
Eileen said the greatest benefit to living at SVL is that personnel in the front office are always available, either in person or by phone, especially Residence Manager, Melissa Ressler; Director of Landis Quality Living, Ed Kaminski; Director of Operations for Community Initiatives, Dot Hartman; and the MSW volunteer from Millersville University, Tyler Cook.
"A question I am often asked is how I like living at SVL, and my answer is always the same. I wouldn't want to live anywhere else," said Eileen.
"I've been telling my friends that SVL is absolutely the best and safest place to be living in this crisis!"
"A question I am often asked is how I like living at SVL, and my answer is always the same. I wouldn't want to live anywhere else," said Eileen.